Welcome to Ann´s House

Anne's house is in a quiet villa district with only a few minutes walk to the Swedish Trade Centre, The Avenue, and Liseberg Amusement Park.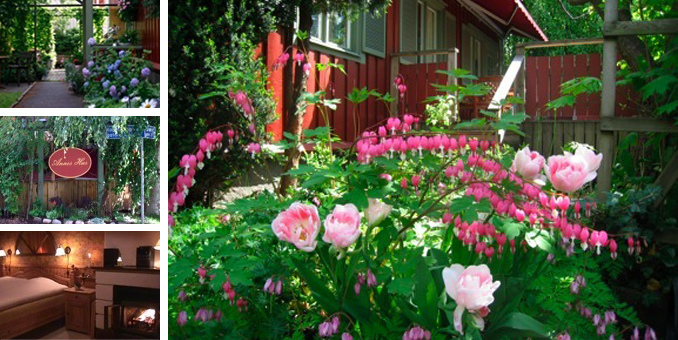 Besides the hotel with their three minisuiter which costs 1590:- / night for two people incl. breakfast and the nice small single room Leopold which costs 1150:- / night
is the opportunity to
* participate in cultural evenings in Anne's House held the first Tuesday of every month
* Organize a conference for small groups up to 12 people and get good food in Anne's House
* Organize a conference with overnight in Skärhamn for small groups, maximum 8 people
If you are a guest in Annes Hus you have free access to the exhibition

A New Earth
* Take part in the exhibition " A New Earth " that presents seven principles of life for the good and the great life in seven different rooms in Anne's House

The first room is about our opportunities and the exhibition in the house's first floor.
The second room is about giving and receiving, and are also on display in the house's first floor.
The third room will focus on our choices and the exhibition can now be seen in the studio
The fourth room is about the LOVE ENERGY, which we achieve by accepting what we cannot do anything about, taking responsibility for what we can influence and doing defense freedom.
The fifth room is about Intent and desire and how we can achieve what is important to us with the power of thought. Take power over your own look !

Det femte rummet handlar om AVSIKT OCH ÖNSKAN och hur vi kan uppnå det som är viktigt för oss med tankens kraft. När vi förmår tänka kärleksfulla tankar om oss själva och varandra bidrar vi till fred på jorden.
Det sjätte rummet handlar om OVISSHETENS VISDOM. Om att ha en avsikt med det man vill men ändå stå öppen för att byta väg för att värna sin och andras harmoni. Den sjätte livsprincipen för en hållbar och rättvis värld handlar om OBEROENDE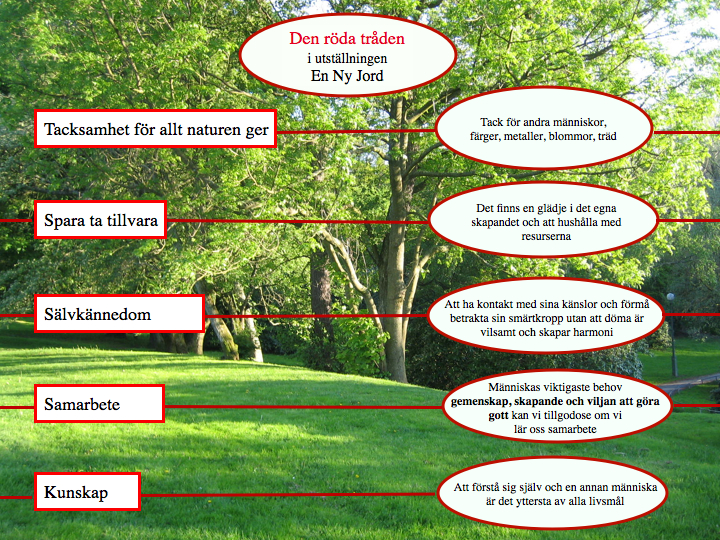 Det sjunde rummet handlar om VÅRT SYFTE I LIVET. Om att utveckla det vi känner lust och fallenhet för och att uppmuntra andra till samma sak.  Den röda tråden i bilden nedanför utgör viktiga förhållningssätt för att skapa en rättvis och hållbar värld. Bra att ha som utångspunkt för meningen med livet som är KÄRLEK
Här nedan följer en skiss av utställningens olika rum.
Welcome to look around at Annes Hus different pages.
Sincerely
Anne Claesson