Welcome to Ann´s House

Anne's house is in a quiet villa district with only a few minutes walk to the Swedish Trade Centre, The Avenue, and Liseberg Amusement Park.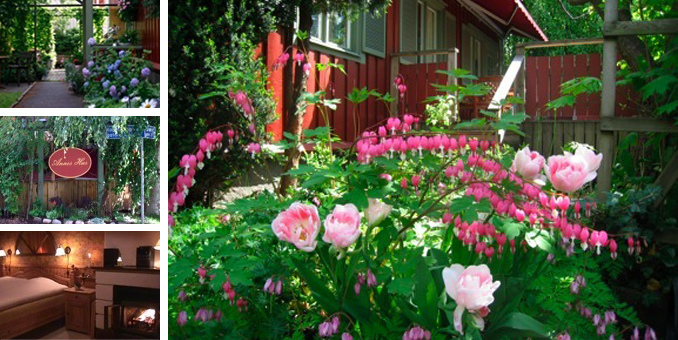 Besides the hotel with their three minisuiter which costs 1590:- / night for two people incl. breakfast and the nice small single room Leopold which costs 1150:- / night
is the opportunity to
* participate in cultural evenings in Anne's House held the first Tuesday of every month
* Organize a conference for small groups up to 12 people and get good food in Anne's House
* Organize a conference with overnight in Skärhamn for small groups, maximum 8 people
If you are a guest in Annes Hus you have free access to the exhibition

A New Earth
* Take part in the exhibition " A New Earth " that presents seven principles of life for the good and the great life in seven different rooms in Anne's House

The first room is about our opportunities and the exhibition in the house's first floor.
The second room is about giving and receiving, and are also on display in the house's first floor.
The third room will focus on our choices and the exhibition can now be seen in the studio
The fourth room is about the LOVE ENERGY, which we achieve by accepting what we cannot do anything about, taking responsibility for what we can influence and doing defense freedom.
The fifth room is about INTENT AND DESIRE  and how we can achieve what is important to us with the power of thought. Take power over your own look !

The sixth room is about  WHAT HAPPENS WHEN YOU DARE TO TRY SOMETHING YOU DON'T KNOW ANYTHING ABOUT. About having an intention but still being open to change your way. The sixth principle of life for a sustainable and fair world is about INDEPENDENCE
The red thread in the picture represents important ways of creating a just and sustainable world. Good to have as a starting point for the meaning of life that is LOVE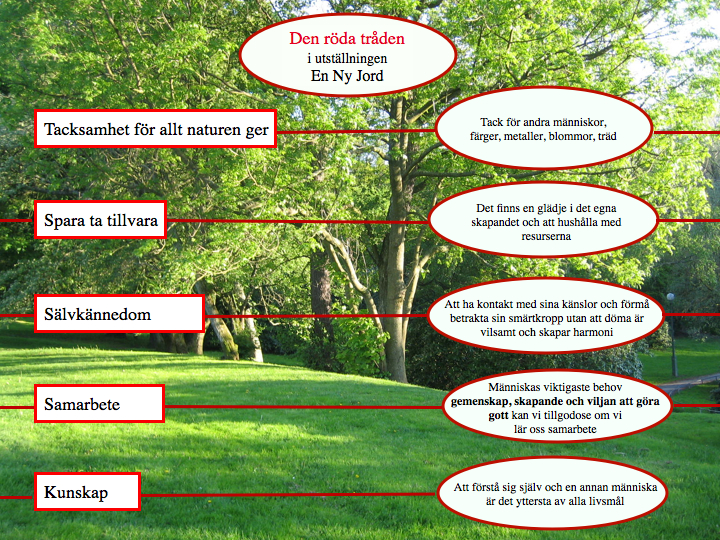 The seventh room is about OUR PURPOSE in life. About developing what we feel desire and affection for and encouraging others to do the same.
The meaning of my life is to inspire to live with those seven life principles for life. I do this in seven different rooms in Anne's House. It starts in the basement with four rooms and continues in one of the rooms in the first floor and so on to the second floor and the hotelroom  Viola. On the third floor ends  the exhibition with the  principle of OUR PURPOSE IN LIFE at the attic

Below is a sketch of the exhibition's various rooms.
Welcome to look around at Annes Hus different pages.
Sincerely
Anne Claesson