Anne
Hello
My name is Anne and run the business; Annes Hus. I want to wish you welcome to Gothenburg's smallest design hotel with four individually decorated rooms.
What I value most in life is to have access to my creativity. There is no obvious ability but something I learned.
It is now 16 years since I started Annes Hus after leaving one twenty-five years working as a special education teacher.
Years of self-employment has been eventful with amazing encounters with fine hotel and conference guests. Much care and maintenance of houses, hotels and gardens to constantly reinvent comfort has become a way to keep myself in good shape.
As the organizer of courses, cultural evenings, sailing and trips I have made many new enriching encounters and experiences. With this I want to say that I created me a platform that is the dream of my life. To work with the positive impact and be able to contribute to good meetings.
My ultimate vision is to start a sight on the net in order for people to come together to support and encourage each other. Therefore, there is now an exhibition so that anyone who wants to be in thegoodnetwork.eu can take some of the principles of life that should permeate this platform. In these and other rooms (above) in Gothenburg and Skarhamn should layup and plans how this platform will be designed to take place.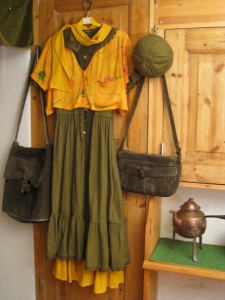 For many years I have dreamed of making an exhibition of color and form that aims to highlight the basics for a good life. To show in seven Principles of life that should permeate our thinking and be an integral part of the school conveys. I have been working on this for seven years and my plan was that the exhibit and a book would be finished in 2014. Now I reformulated my goal and with relief decided to introduce one principle of life per year.
What drives me in what I do is desire. The chance to do what I think is funny, develop myself and if possible to contribute to development at all. Joy is to know that people enjoy being together. Joy is to see people develop the best of themselves.
The driving force in my previous work was the same as now, the difference is that I now have the chance to use more sides of myself.
My big dream is an equal world that has love as the driving force. I have long wondered how to do it. I think it's about awareness that leads to personal responsible choices.
I want to wish you a warm welcome to the hotel, booking conferences, cultural evening visitors or participants in any other activity.
Sincerely
Anne